PRIME DEVELOPMENT OPPORTUNITY – ZONED B6 ENTERPRISE CORRIDOR
Exclusive development agents, Urban Greenfield, are proud to offer this outstanding 2.023-hectare development opportunity located at 284 Annangrove Road, Rouse Hill; in the heart of the rapidly expanding North-West Priority Growth Area and Box Hill and Rouse Hill Industrial precincts. Conveniently located just a few minutes from Windsor Road and only 5kms from the new state-of-the-art Sydney Metro Northwest, the site comprises the following permissible land uses and is ready for future development:
20,230m2 of land zoned B6 Enterprise Corridor (approx. 6 x 2500m2 lots permissible*)
* Preliminary research suggests a concept plan of approximately 6 lots could be realised across the B6 zoning (based on a minimum lot size of 2,500m2). The maximum building height for future development is 16 metres with an FSR of 1.0.
Site Attributes & Characteristics
Attractive location providing good access from Annangrove Road and future access from Edwards Road and Ross Place, linking Rouse Hill with North Kellyville in the future. The land falls to the north towards Annangrove Road with typical contour variations of 10-20 metres in fall from north to south across the entire length of the site.  The property contains a large single-storey residence, granny flat, outsheds and tennis court and is not flood affected.
In addition to the attractive location, services including connection to the Sydney Water Network, Telstra, NBN and single-phase electricity supply are available to the property.
Development Details
 Permissible uses prescribed in the land-use table are not limited to, but include:
Business premises
Community facilities
Serviced apartments
Office premises
Neighbourhood shops
Hardware and building supplies
Hotel or motel accommodation
Light industries
Warehouse or distribution centres
Self-storage units
Food and drink premises
Garden centres
Summary of Fast Development Facts
Lot: 10
DP: 563695
Municipality/LGA: Hill Shire Council
Planning legislation: Hills Local Environment Plan 2012 (Amendment No 18)
Land use: B6 Enterprise Corridor
Total land area: 2.023 hectares or 20,230m2
Maximum FSR: 1.0
Total yield: 6 lots (subject to lot size, design, road layout and Hills Shire Council approval)
Maximum height of buildings: 16 metres
Essential services: Connection to Sydney Water, Telstra, NBN and single phase electricity supply to the property with future sewer lead-in to be brought to the property
Proximity to infrastructure: 2.5km Windsor Road, 5km Rouse Hill Town Centre and Sydney Metro, 7.6km Riverstone Train Station, 10km Norwest Business Park, 15km Castle Hill, 22km Parramatta and 50km Sydney CBD
Further Information
This outstanding opportunity presents developers with the prospect of securing the last B6 zoned development site within the Edwards Road Precinct; right in the heart of the thriving North-West Priority Growth Corridor and future Edwards Road Business Hub.
For more information and to obtain an Information Memorandum on this attractive development offering, please call Trent at Urban Greenfield today on 1300 732 587 or email trent@urbangreenfield.com
Disclaimer: All information contained herein has been obtained from sources that Urban Greenfield believes to be reliable and accurate and is given in good faith. This information is of a general nature only. Therefore, Urban Greenfield gives no warranty as to its correctness, accuracy or suitability for individual circumstances, and any person using the information on this site is recommended to obtain independent expert and or legal advice that is tailored for their circumstances. Urban Greenfield its directors and staff, bear no responsibility to any company or person who relies upon the aforementioned information provided.
Similar Listings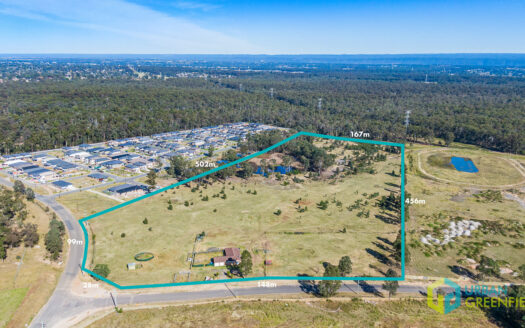 LEAD THE PACK! DA APPROVED FOR 84 RESIDENTIAL LOTS WITH SUPERIOR POSITIONING IN MARSDEN PARK! OFFERED FOR SALE BY N
[more]
LEAD THE PACK! DA APPROVED FOR 84 RESIDENTIAL LOTS WITH SUPERIOR POSITIONING IN MARSDEN PARK! OFFERED FOR SALE BY N
[more]
ACQUIRE 15.31 ACRES OF FUTURE DEVELOPMENT LAND LOCATED IN VINEYARD PRECINCT (STAGE 2)    ON MARKET – ACCEPTIN
[more]
ACQUIRE 15.31 ACRES OF FUTURE DEVELOPMENT LAND LOCATED IN VINEYARD PRECINCT (STAGE 2)    ON MARKET – ACCEPTIN
[more]
PRIME 5-ACRE R3 MEDIUM DENSITY RESIDENTIAL DEVELOPMENT OPPORTUNITY! Secure this premium site in the heart of the Vi
[more]
PRIME 5-ACRE R3 MEDIUM DENSITY RESIDENTIAL DEVELOPMENT OPPORTUNITY! Secure this premium site in the heart of the Vi
[more]