16 Harkness Road, Oakville
add to favorites
PRIME 5-ACRE R3 MEDIUM DENSITY RESIDENTIAL DEVELOPMENT OPPORTUNITY!

Secure this premium site in the heart of the Vineyard Precinct (Stage 1)!
16 Harkness Road is situated in the rapidly expanding North-West Priority Growth Area, only minutes' from Windsor Road, the proposed Outer Sydney Orbital and just a short commute to the future Sydney Metro. This outstanding 5-acre, R3 Medium Density residential development opportunity provides developers with a rare offering to capitalise on 20,230m2 of rezoned land.
Location, Density and Subdivision Potential
Adjacent to the fashionable Box Hill Precinct and only a 6-minute drive from Rouse Hill Town Centre, Vineyard – Stage 1 will provide newly rezoned development land for an additional 2,400 homes to accommodate approximately 7,400 residents. This exceptional site is one of only a few within the precinct zoned entirely for R3 Medium Density development, and neighbours the proposed primary school and future village centre, shops and cafés.
In addition to the attractive location, the residential density yield for the site suggests 20-30 dwellings/hectare would be permissible. Up to 50 high-quality dwellings/townhouses could be constructed with a maximum building height of 12 metres.
Site Attributes and Characteristics
The site itself is slightly undulating (falling to the east) with a westerly aspect, containing a quality attached dual-occupancy single-story residence set towards the front of the site. In addition, the site also contains a pre-school and tennis court which are also in a forward position slightly set back from Harkness Road. All services including connection to the Sydney Water Network, Telstra, NBN and singlephase electricity is available at the property. The site dimensions provide for approximately 122 metres of frontage to Harkness Road with a depth of approximately 157 metres (left side) and 185 metres (right side) for a combined net development area of 20,230m2  or 5 acres.
Development Details
The development upside for this site is remarkable and all interested parties are encouraged to act fast to secure this rare development offering which is already proving highly sought-after within the Vineyard Precinct. Possibilities for future residential use are detailed within State Environment Planning Policy (Sydney Region Growth Centres) Appendix 13 – Hawkesbury Growth Centres Precinct Plan and Development Control Plan (2018). Permissible uses detailed in the land-use table are not limited to, but include:
Dwelling houses,
Multi dwelling housing,
Group homes,
Residential flat buildings,
Shop top housing,
Neighbourhood shops,
Educational establishments,
Community facilities,
Respite day care centres,
Centre-based child care facilities,
Seniors housing; or
Aged care facilities.
Summary of Fast Development Facts
Lot: 101
DP: 620750
Municipality/LGA: Hawkesbury City Council
Planning legislation: State Environment Planning Policy (Sydney Region Growth Centres) Appendix 13 – Hawkesbury Growth Centres Precinct Plan and Development Control Plan (2018).
Current land use: R3 Medium Density Residential
Total land area: 20,230m2 or 5 acres (2.02 hectares)
Net residential density yield: 20 – 30 dwellings/hectare
Total residential density yield: 45-50 dwellings
Maximum height of buildings: 12 metres
Essential services: Connection to Sydney Water, Telstra, NBN and single phase electricity supply
Proximity to infrastructure: 1.2 km Windsor Road, 3.1km Vineyard Train Station, 7km Rouse Hill Town Centre, 7km Riverstone Train Station, 9km Sydney Metro – Cudgegong Station, 14km Norwest Business Park, 15.5km Castle Hill, 26km Parramatta and 49km Sydney CBD
Hawkesbury City Council rates: $4,700 p.a
Sydney Water fixed rates: $140 p.a
Further Information
This extraordinary opportunity presents fast-acting developers with the prospect of securing rare R3 Medium Density land within the Vineyard Precinct, whilst exploring the vast array of possible development opportunities right in the heart of the thriving North-West Priority Growth Area.
For more information on this exceptional development prospect, please contact the team at Urban Greenfield today. Email trent@urbangreenfield.com.au or call 1300 732 587.
Property Id : 1581
Property Lot Size: 20 230,00 m2
Similar Listings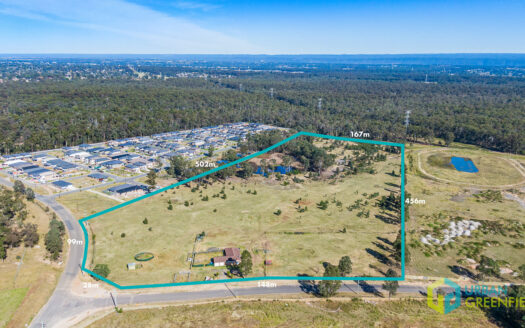 LEAD THE PACK! DA APPROVED FOR 84 RESIDENTIAL LOTS WITH SUPERIOR POSITIONING IN MARSDEN PARK! OFFERED FOR SALE BY N
[more]
LEAD THE PACK! DA APPROVED FOR 84 RESIDENTIAL LOTS WITH SUPERIOR POSITIONING IN MARSDEN PARK! OFFERED FOR SALE BY N
[more]
ACQUIRE 15.31 ACRES OF FUTURE DEVELOPMENT LAND LOCATED IN VINEYARD PRECINCT (STAGE 2)    ON MARKET – ACCEPTIN
[more]
ACQUIRE 15.31 ACRES OF FUTURE DEVELOPMENT LAND LOCATED IN VINEYARD PRECINCT (STAGE 2)    ON MARKET – ACCEPTIN
[more]
PRIME DEVELOPMENT OPPORTUNITY – ZONED B6 ENTERPRISE CORRIDOR Exclusive development agents, Urban Greenfield,
[more]
PRIME DEVELOPMENT OPPORTUNITY – ZONED B6 ENTERPRISE CORRIDOR Exclusive development agents, Urban Greenfield,
[more]